ceda Members See Continued Positive Sales in 2nd Quarter
ceda's most recent Confidence Survey shows continuing strong sales for its members when compared to the same period of last year. 64% of members reported better sales for the period and only 15% saw a reduction. Year to date figures are also positive with 57.4% reporting higher sales for the first half of the year.
How did your sales for the last quarter compare with the same quarter in previous year?
These encouraging figures show that despite the current uncertainties in the political and economic arenas as the UK negotiates its exit from Europe, members are still securing new business for both project design and installation work as well as maintenance and service support contracts.
How do your year-to-date sales for this current year compare with your year-to-date last year?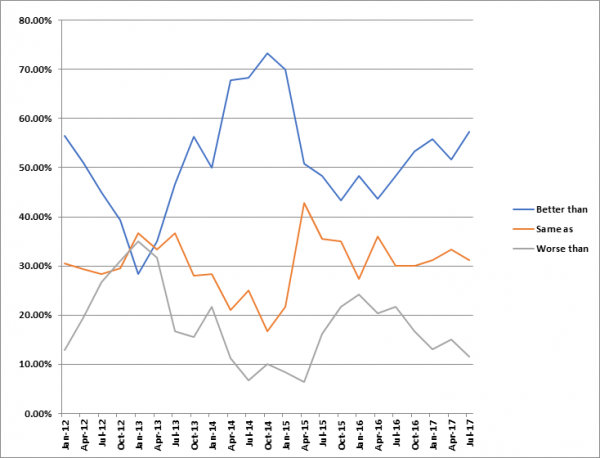 Commenting on the survey, ceda's Director General Adam Mason said, "In addition to the positive sales achieved by the majority of members, pleasing too was the number reporting an increase in margin. Enquiries received from the Public Sector remained fairly constant with the real Private Sector growth coming from Hotels and Restaurants. We remain in uncertain times but the positive culture that now permeates through ceda and the membership is very much reflected in these results With several new members joining in recent weeks, ceda represents over 100 companies with a combined turnover of more than £500 million. High levels of interest in the Industry Catering Equipment Technical Conference taking place in October, further indicates that members are experiencing positive levels of activity in the marketplace.