Two more names announced for the ceda Conference
Charismatic entrepreneur and speaker, BJ Cunningham and financier Martin Vander Weyer, are the latest names to be added to the ceda Conference speaker line-up, which is now just five weeks away!
BJ Cunningham
Whilst still a teenager BJ Cunningham started his first enterprise, importing classic cars and Harley Davidsons from LA to London. When the market collapsed, he used his considerable debt to launch DEATH Cigarettes – positioned as 'The Honest Smoke'. It gained such a foothold that BJ found himself taking on the combined might of the industry in the European Court of Justice.
With a growing reputation for challenging norms, BJ set up a brand marketing agency and built a client list including Volkswagen, B&O and Nokia. Having sold the company and proved his credentials as a true serial entrepreneur, he and his wife created and ran the luxury shoe designer Georgina Goodman until its acquisition by venture capitalists.
BJ is a Visiting Professor at Brighton University, serves on the council of Business Superbrands and travels the world giving inspiring keynote presentations. He believes that while customers are magnetised towards 'need' over 'want' in the wake of recession, genuine premium will remain resilient: "Loyalty in business is a long-term relationship, discounting is little more than a one-night stand."
BJ's message is that a brand is a promise, not a logo; it's about depth, not awareness. A business must know what it stands for, say it with clarity and do what it says. With wonderfully engaging examples, he shows that customers want to understand the authentic soul of the organisation and become part of your community.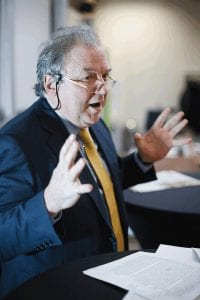 Martin Vander Weyer
Martin Vander Weyer is Business Editor of The Spectator, the world's oldest weekly current affairs magazine. He is also a regular contributor to the Daily Telegraph, Literary Review and other national publications.
Before turning his hand to journalism, Martin spent 15 years as an investment banker in London, Brussels and the Far East – including a spell in Malaysia privatising an airline.
A highly experienced commentator rather than a technical economist, Martin agrees that a shift of resources from the bloated public sector to a more responsive private sector should bear fruit. But he also believes there are many in the City who should examine their consciences.
Martin is a Trustee of Opera North and has written and performed in several plays. Amongst other titles he is also the author of Falling Eagle: the decline of Barclays Bank, Fortune's Spear, and a collection of columns and articles, Any Other Business: Life in and Out of the City.
BJ and Martin join Kate Nicholls of UKHospitality and Peter Martin of CM & Co in the 2019 Business Day speaker's line-up, with more names due to be announced imminently.
ceda Director General, Adam Mason believes BJ and Martin will bring a different vibe to the Business Day agenda and is eagerly awaiting what they have to say, "I'm delighted that BJ and Martin will be joining us at Conference to impart their respective knowledge, wit and expertise. Over the last few years we have found that the blend of speakers has been crucial in delivering outstanding Business Day content. They will take the audience, momentarily, out of the catering and hospitality industry and give life and business lessons that can be implemented in to businesses across the sector."
The ceda Conference 2019 takes place at Heythrop Park, Oxfordshire on 4th & 5th April. To book you place and find out more details visit https://ceda.co.uk/conference/.