ceda Silver Partner Synergy Grill Technology raise the steaks with outdoor grill launch
Cambridge based company, Synergy Grill Technology, is delighted to introduce a range of superior Outdoor Cook Stations to their commercial grill portfolio: a range of grills that allows operators to tap into the thriving outdoor catering scene in time for the summer surge.
Unlike traditional outdoor units which lose heat rapidly, thus requiring regular restoration of coals, the Synergy Grill Outdoor Unit is able to maintain a powerful, consistent heat thanks to a combination of fuel injection air gas technology and natural ceramics. Thermal shock resistant bars also allow chefs to cook a higher volume of food, safe in the knowledge that the temperature will remain consistent which is something unheard of within the outdoor grilling sector.
Like Synergy's indoor counterparts, the Synergy Outdoor Grill Unit uses on average 59% less gas compared to commercial gas grills of similar sizes, thus less gas bottles are required during outdoor food services, allowing for a more cost-effective, storage-savvy solution. An innovative gas distribution valve within the Outdoor Units also allows operators to easily switch from one bottle to the other without having to change gas pipes which proves particularly useful during busy trading periods. Add to this the fact that the Outdoor Unit is large enough to hold two 13kg propane gas bottles, and operators are left with a truly practical unit.
Justin Cadbury, Chairman of Synergy Grill Technology, is delighted to see the brand enter the outdoor cooking market:
"We are pleased to launch our Outdoor Synergy Cook Stations following the tremendous success of our indoor grills: a unit which turns outdoor areas into excellent revenue earners. When using an outdoor grill, many catering professionals are unable to decide whether gas is the most convenient, if charcoal produces a better flavour or if electric is the most reliable. The Synergy Grill can offer the benefits of all three, along with stress-free, high-quality cooking without compromising on the food quality served.
He continues: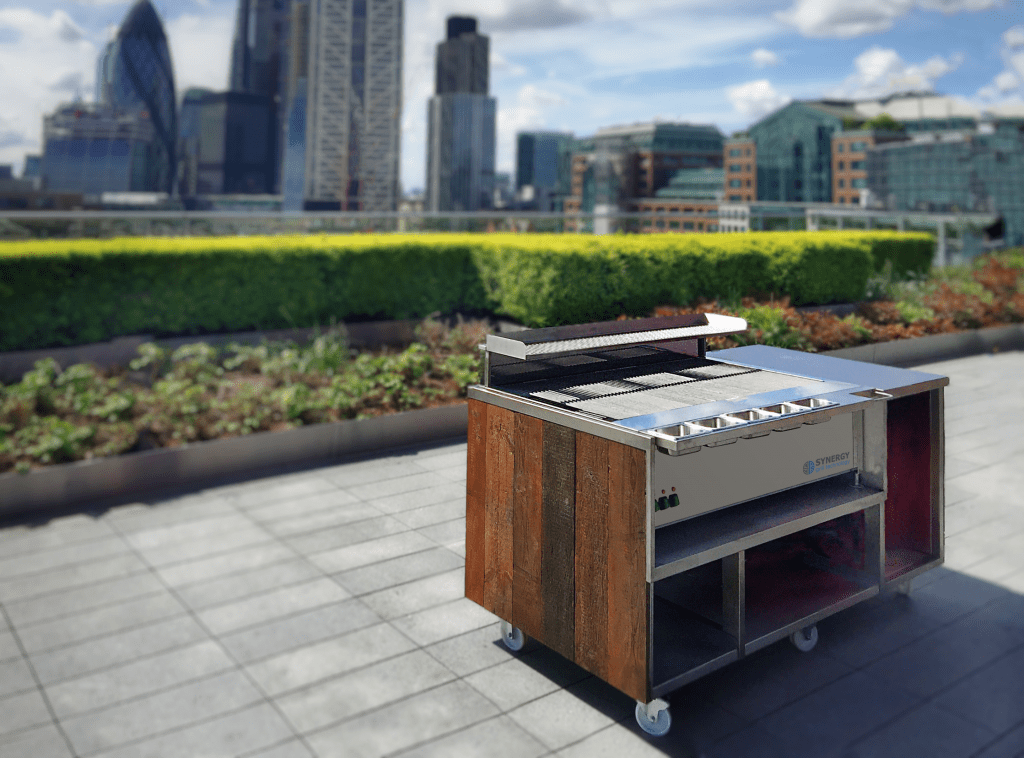 "Outdoor cooking is an easy and simple way to increase food revenue during the summer months, whether it's a fine dining restaurant or casual pub dining.
The cleanliness of the Synergy, as well as its environmental excellence, which has now been Accredited by the Carbon Trust, opens new avenues for pub gardens etc.
With the peaks and troughs experienced with outdoor food service, Synergy Grills allow the chef to focus on the cooking, rather than worrying about the temperature of the equipment. From succulent steaks, chargrilled chicken, juicy sausages, veggies and more, Synergy's outdoor grill technology ensures perfect grilling results time after time."
Complete with heat capturing ceramic technology to guarantee a cleaner, safer, greener and more succulent quality of food, Synergy's new Outdoor Cooking Station truly excels on every front.
Available in wood cladding or stainless steel, the mobile grill is available in Synergy SG630, SG900 and SG1300 sizes. Featuring sturdy, lockable castors which make it easy to manoeuvre, the Outdoor Cook Station extends beyond the kitchen to provide fantastic additional revenue for caterers throughout the Spring and Summer months.
Synergy Grill also offer a wide range of accessories that prove ideal for outdoor grilling including a rotisserie accessory, garnish rails and griddle plates.
For further information on Synergy Grill Technology, visit www.synergygrill.com call 01480 811000 or email info@synergygrill.com