Rational in Landsberg am Lech celebrates production milestone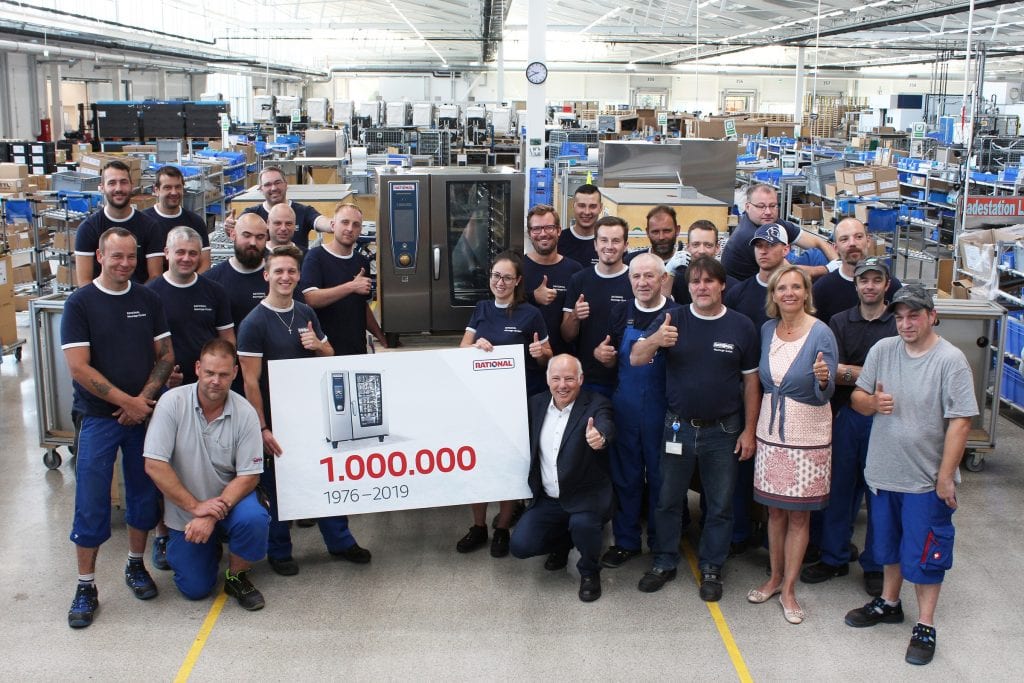 The world market and technology leader in the field of hot food preparation for commercial kitchens produces the millionth combi-steamer. The unit will go on a world tour before being installed at the Hofbräuhaus in Munich.
Quite a normal SelfCookingCenter, as they leave the production halls of Rational in Landsberg am Lech hundreds of times every day. But there is one combi-steamer that will hold a special mention in the history of the company, because it is the millionth unit. "A milestone for Rational," explains Peter Wiedemann, Chief Technical Officer of Rational AG.  When Siegfried Meister founded the company in 1973, nobody imagined how successful it would become within such a short time. The first combi-steamer was produced just three years after the founding of the company, and the technology has been continuously developed since then. Today, more than 130 million meals are prepared in Rational units every day around the world.
The combi-steamer is going on a world tour
The secret to its success is customer orientation and specialisation. From the very first day, the Landsbergers concentrated on offering the people working in commercial kitchens around the world the greatest possible benefit. "And it is precisely with these people that we are celebrating this milestone with," says Dr Peter Stadelmann, Chairman of the Board. It was decided that the millionth combi-steamer would be sent on a world tour to be displayed at the major trade fairs around the globe. The milestone unit can easily be identified by the lettering "1,000,000" written on its gold rotary knob and the personalised control panel. "This SelfCookingCenter will be going to the Hofbräuhaus," explains Dr Stadelmann, "therefore we will place the logo of the Munich institution in a clearly visible position." The SelfCookingCenter will be returning to Germany around the end of October for installation at the Hofbräuhaus.
For the entrepreneurs within the company, as Rational employees see themselves, this is no reason to rest. Quite the contrary. "We know about four million commercial kitchens across the globe that use our technology to their benefit. A motivating number for us," says Markus Paschmann, Chief Sales & Marketing Officer, and adds: "Even though the percentage of kitchens with Rational units is constantly rising, there are still many we wish to inspire with the customer benefit we offer."