Owners of ceda Silver Partner Synergy Grill receive accreditation from The Carbon Trust
Active Food Systems, manufacturers of ceda Silver Partner, Synergy Grill, has announced that they have become the first commercial chargrill manufacturer to be awarded Accredited Supplier status by the Carbon Trust. This accreditation means that Active Food Systems are now listed on the Carbon Trust's Green Business Directory to supply and install energy efficient grill solutions, such as their own Synergy Grill.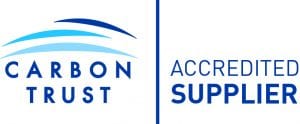 Carbon Trust Accredited Suppliers are independently assessed by the Carbon Trust and found to have met (or exceeded) criteria designed to examine their capability and proven track record of delivering thoughtful, well-designed energy efficient and renewable energy systems. Active Food Systems demonstrated this by providing case studies which highlight the quality of projects, combined with client references affirming their satisfaction with completed work.
Richard Ebbs, Commercial & Marketing Director at Active Food Systems, manufacturers of the Synergy Grill, is delighted with the accreditation:
"Energy efficiency and sustainability issues are at the very core of Synergy Grill technology and were hugely influential factors during the design process. We are thrilled that Active Food Systems have been accredited by the Carbon Trust to carry out the install of energy efficient grill solutions such as our Synergy Grill; especially as we are the only chargrill manufacturer to be listed on the Green Business Directory. This Accreditation further differentiates Synergy Grill Technology from standard chargrill providers, as well as other catering equipment, by combining the already accepted improved food quality, with greater environmental excellence. Our Chairman and inventor Justin Cadbury has always said this stands at the very heart of our vision for better food at lower cost, both financially and environmentally. We welcome any restaurants and dealers who feel this is a worthy benefit to them and their colleagues".
The Synergy Grill uses the latest patented burner technology and natural ceramics which uses on average 59% less gas and produces less CO residue compared to commercial gas grills of similar sizes. The heat capturing ceramic technology ensures that heat is focused directly towards the food, therefore requiring less energy for a cleaner, safer and greener grilling experience.
Unlike conventional chargrills, Synergy Grill technology atomises the fat, thereby eradicating the necessity for a fat tray and the need to dispose of fat waste altogether. This reduces operator's contributions to environmental damage caused by fat and grease disposal such as sewage blockages and fatbergs. The only disposal required with a Synergy Grill, is the vacuuming away of carbon dust deposits at the end of each service.
For further information on the full Synergy Grill range or to arrange a demonstration, visit www.synergygrill.com, call 01480 811000 or email info@synergygrill.com.