Sprint Group support Caprice Holdings in a charity initiative to provide thousands of cooked meals across the UK
Richard Caring, Caprice Holdings, has personally thanked ceda Member Sprint Group, for their support in providing thousands of cooked meals throughout the country.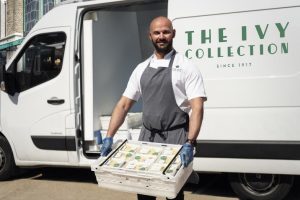 Caring, Chairman of Caprice Holdings which owns and runs The Ivy chain of restaurants, sent his personal message of thanks to a number of organisations, including Sprint director Ross Ryan, after Sprint Group worked alongside ceda Platinum Partner, Rational, to support the charitable initiative. Sprint Group, run by brothers Ross and Luke Ryan, is based in Pershore, Worcestershire. Sprint is an award-winning company that designs, installs and maintains commercial catering equipment throughout the UK.
Spearheaded by The Ivy Collection; Birley, Caprice, Troia and Bill's, aided by Ross and Luke's generosity, the groups have come together to distribute thousands of meals for those in need. This week, 26,000 cooked meals will be provided across the UK and the group will deliver London hospitals with an additional 7,000 cold meals.
Caring, who runs The Caring Foundation, said: "Thank you! Thank you! I'm so very thankful and grateful to be associated with such amazing people. Stay safe and all very best wishes."
Sprint Group recently announced that it had temporarily closed its office doors but would remain open for business to support key sectors like hospitals, schools, colleges and care homes nationwide.
The Group are specialists in design, projects and equipment for the foodservice, catering and hospitality industry and supply high performance commercial kitchen, bar, refrigeration and ventilation equipment to the NHS, schools and colleges nationwide, along with well-known eateries which have recently had to shut down due to the Covid-19 outbreak. However, with the help of initiatives like those from Richard Caring and The Ivy Collection, Sprint Group have ensured that vital services and equipment are still available for key sectors across the UK including ambulance crews and NHS frontline staff.
Ross says: "We vowed to do everything possible to keep our services running to ensure that the key sectors fighting to keep our country running have what they need, and we have. It's a pleasure to support Richard and the Caring Group with their initiative."
Ross continues: "We extend our offer to anyone in need of help with catering equipment to support amazing efforts like Richard's, The Ivy Collection and The Caring Foundation. If you think Sprint
Group can help, please let us know."
To learn more about Richard Caring and The Caring Foundation, go to: http://thecaringfoundation.org/ or to take Ross up on his offer, please call the Sprint team on 01386 555922.