Ramco is First Choice for ground-breaking sustainability initiative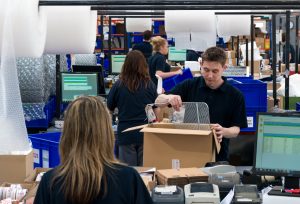 In a bid to prevent thousands of surplus catering parts going to waste, ceda Platinum Partner company, First Choice Group has teamed-up with ceda Associates, Ramco Food Services to carry out a pioneering recycling initiative.
Under the agreement, Ramco re-sells surplus stock to ensure new outlets are found for items that would otherwise have been disposed of.
First Choice is the UK's leading supplier of OEM (Original Equipment Manufacturer) catering equipment spares, accessories and consumables and has master distribution agreements with major catering manufacturers to manage their total parts sales.
With thousands of items in stock, there are inevitably surplus, slow-moving and obsolete parts taking up warehouse space. Traditionally the company sold these items to metal recyclers, but this meant many still-serviceable items were unavailable for secondary markets.
Keen to adopt a more sustainable approach, the company decided to explore ways to responsibly dispose of these items. They chose to partner with Ramco, which specialises in the management of surplus catering equipment, leading to a thriving partnership that has given surplus parts a new lease of life.
As a result of its partnership with Ramco, First Choice has made a successful departure from its previous 'end of life' approach to surplus and redundant parts, to make a significant contribution towards reducing its environmental footprint. So far, Ramco has managed to environmentally dispose of or re-sell £234,000 worth of items covering almost 1,200 different product lines.
Julian Fisher, head of marketing at First Choice, said: "Never have sustainability and environmental concerns been more prominent than in today's business world. We're pleased to have formed a close working partnership with Ramco. Through the effective reuse and resale of unused materials they have provided us with a safe, sustainable and future-proof solution for the removal of surplus assets."
First Choice is currently the only parts supplier working with Ramco, and since the partnership began, Ramco has arranged regular collections of a large variety of spares. All items are effectively and efficiently repurposed, reused and resold, with parts finding their way to where they're most needed – often in developing countries.
Paul Fieldhouse, who leads Ramco Foodservices business development said: "This initiative extends the product lifecycle of resources, ensures that they retain their value and above all, prevents them being unnecessarily scrapped or sent to landfill."
Combined with a considerable reduction in waste, the business has also been able to minimise its storage and disposal costs, ultimately creating a more eco-friendly, productive and competitive operation.