New judge for 2019 Grand Prix Awards
Catering equipment industry trade body, ceda, are delighted to welcome a new judge for the Grand Prix Awards 2019.
Ron Neville will join long-standing ceda judge John Savage (now in his 7th year of judging) to determine the winners of this year's coveted awards.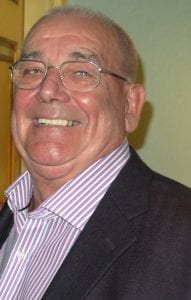 Ron replaces outgoing judge Brian Booth, who retired from the position following last year's awards, after six years in the role.
Ron himself received the ceda Industry Personality Award in 2016 on his retirement.
Of the appointment, Adam Mason, ceda Director General said, "With a huge knowledge and experience base, having worked in various roles across the industry during a long and distinguished career, Ron is perfect for the role."
Ron himself said, "I am extremely happy to be invited to judge the ceda Grand Prix awards and I am looking forward to visiting the sites with John to view the great projects produced by ceda members in 2018."
The deadline for entries was this Monday, 14th January. Entries are up by 50% which "demonstrates the growth of the membership and ceda's engagement with it, as well as the continued excellence of projects and service delivered by ceda Members", says Mason.
Together, Ron and John will work through all the entries received and decide an initial shortlist. Following the submission of further, more detailed information and deliberation, a final shortlist is arrived at.
They will then visit each one in person to gauge a better understanding of the project put forward, and ultimately decide the winner of each category. The categories for this year's Awards are; Small Project (up to £100k in value), Medium Project (between £100k and £300k), Large Project (over £300k), Outstanding Customer Service Award, Project Management, and the Rising Star Award.
The presentation of the Grand Prix Awards will take place at the gala dinner, on the final day of the annual ceda Conference. This year's Conference takes place on 4th & 5th April at Heythrop Park, Oxfordshire.
The ceda Conference is the premier event of the catering equipment industry attracting distributors, manufacturers and representatives of other associations representing major end user groups.
Registration is now open for the Conference. ceda Members, Partners, Associates and any anyone else within the industry is invited to book their place at the event via the ceda website, ceda.co.uk/conference/.