LF releases two new coffee catalogues
ceda Silver Partner, LF Spare Parts, widens it's offering of spare parts and accessories for baristas and releases two new catalogues.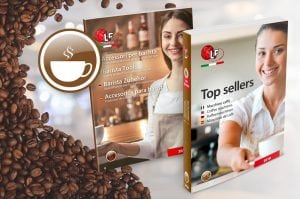 The LF offering of spare parts for coffee machines and barista tools continues to expand year after year, now reaching 20,000 items which are always available from stock.
All these articles are at your disposal and can be found on the LF Webshop and in the "LF Group" app for smartphone and tablets. Here you can view technical data, 360° pictures, the available quantity, compatibility, manufacturer's code and price.
To present the most innovative accessories for baristas and a selection of the most requested parts in the market, LF has recently released two new catalogues: "Barista Tools 2018" and "Top Sellers Coffee Machines 2018".
The digital version of the catalogues are available on www.lfspareparts724.co.uk. Found in the CATALOGUES menu, you can add selected items directly to the shopping cart.
In addition if you wish to view all LF has to offer in the coffee sector, with all the manufacturer's codes and exploded drawings, the "Spare Parts for Coffee Machines" catalogue is also available.
LF is not only digital: to meet customers and present the latest news LF exhibits every year at several exhibitions all over the world. The next events are PIR in Moscow, Russia (24-27 September), Coteca in Hamburg, Germany (10-12 October) and Triestespresso in Trieste, Italy (25-27 October).
We look forward to working with you.
For further informationplease email info@lfspareparts.co.uk