Foodservice Equipment Journal Awards 2018
ceda sponsored the 'Operator of the Year for Innovative Kitchen Design' award at the Foodservice Equipment Journal (FEJ) Awards 2018.
The inaugural awards took place at the Hilton Birmingham Metropole on 5th June, with many delegates from the nearby Commercial Kitchen Show at the NEC in attendance.
The Operator of the Year for Innovative Kitchen Design award recognises the significance of a well-designed kitchen to achieving a happy team of chefs, impeccable service and outstanding food. The category aims to recognise multi-site operators that have invested in new kitchens and spent time identifying the right design and lay-out to ensure operational excellence.
The winner on the night was Stonehouse Pizza & Carvery.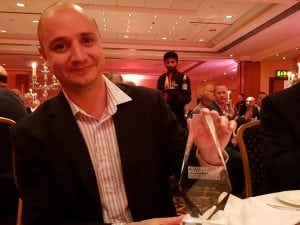 It has been another strong 12 months for the Stonehouse Pizza & Carvery brand, which is only three years in the making but has already proved itself to be a valuable part of the Mitchells & Butlers estate. Some 46 conversion projects took place last year, with the company bringing in the latest twin deck electric pizza ovens to front a set-up that sees dedicated pizza prep zones established independently of the carvery area. Dough for its pizzas is made and prepped on-site at its 82 locations every day and complements a classic pub menu that includes burgers, salads, carveries and roasts.
The other category finalists were:
D&D London
Franco Manca
Fuller's
Oakman Inns & Restaurants
From a ceda perspective, our involvement and sponsorship of the award allowed us an introduction and to promote ourselves and our Members in a room full of multi-site operators.