Compact tabletop footprint, massive capacity
Self-serve, hygienic dispensers can handle up to 200 serves at peak time
Hubbard Systems has launched two new ice dispensers from Scotsman. The DXN models replace the company's hugely popular TC180 dispenser, which is the go-to unit for many high street operators wanting to offer self-serve drinks. The two DXN units offer a choice of capacities but both combine a hygienic, easy to use touchpad control, big production capacities and a very compact tabletop design.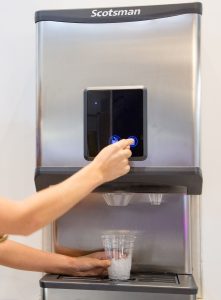 The largest model is the DXN 207 ice dispenser. It has a footprint just 427mm wide by 553mm deep and is 769mm high, yet can store 200 servings and makes up to 110kg of ice per day. Meanwhile the smaller DXN 107 can deliver 100 serves at peak times and make 72kg of ice per day. It has the same footprint as the DXN 207 but is only 619mm high. The ice serving is set at 50gm – but this can be adjusted if the site wants larger or smaller serves.
Both DXN models dispense cubelet ice, which minimises water use because of the way the ice cubes are made. By far the driest and hardest form of flake ice, cubelet ice is produced at just below zero degrees Celsius and is then compressed to remove excess residual water, reducing it to as low as 10% of its original volume. All of which means it is excellent for chilling drinks effectively.
Both DXN models are made of stainless steel and have attractively simple and minimalist facia, with a large, black touchpad screen featuring blue icons. Many operators will place the ice dispenser beside the syrup drinks dispenser and will want to customise both with a vinyl wrap – the DXN's plain facia makes it easy to do this.
For more information visit www.scotsman-ice.co.uk