Foster Refrigerator & Gamko Launch Game Changing Free Next Day Delivery Service
Today Foster Refrigerator and Gamko have launched a free next day delivery service across their most popular products.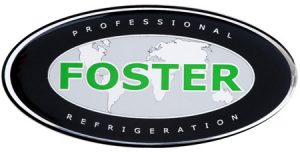 It can be debilitating for any foodservice operation to wait days or weeks for their replacement refrigeration. Getting products the very next day, free, when ordered before 12:30pm, can save restaurants and bars from wasted produce and a potential drop in custom.
Ewen Cairns, UK Sales Manager for Foster and Gamko said, "Whether your refrigeration was on its last legs or suffered an unexpected breakdown, we know how important it is to receive your replacement product as soon as possible. Food can spoil if it isn't kept at the right temperature, and a restaurant without a fridge is like a phone without a battery, it just won't work!
"In terms of chilled drinks, we all know that an unintended warm beverage, or long waiting times at a bar due to limited stock, can put people off returning. Foster and Gamko know how important it is to ensure the smooth operation of anyone serving food or drink, and so to avoid loss of both money and custom, we're delighted to launch our free 24-hour delivery service 'SOS', helping you to Save On Stress!"
With this in mind, industry leaders Foster and Gamko have been working hard to offer customers a service, that by industry standards would have previously cost upwards of £125, for free.
"After speaking to foodservice professionals about their pain points, we knew our SOS service would help rectify the issues they were facing with delivery times in the industry," said Nick Bamber, European Head of Marketing for Foster and Gamko.
The SOS free 24-hour delivery is available across our most popular ranges, including EcoPro G2, XTRA, Slimline, Blast Chillers, Maxiglass and more!
To ensure customers get their order on time and as they expected, Foster and Gamko have produced a helpful video highlighting the important initial checks all customers should make before using the SOS service or ordering in general. The video can be found here https://www.youtube.com/watch?v=IY3ZOJjE2F0
To find out more about Foster and Gamko's delivery options, visit www.fosterrefrigerator.com/SOS  and www.gamko.com/SOS