ceda Silver Partner Blue Seal Pizza Solutions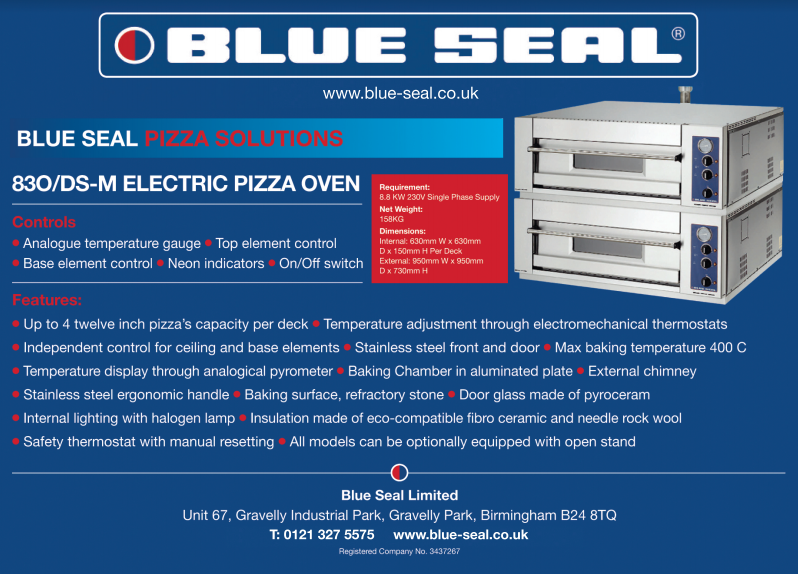 Blue Seal Commercial pizza ovens are traditional Italian style, stone base deck ovens, perfect for cooking delicious deep-base or thin based pizza. Designed for everyday professional use, these powerful electric ovens cook at high temperatures to ensure fast service and great cooking results. The Blue Seal Pizza electric ovens are a fantastic alternative to, wood burner stoves or gas ovens which are higher maintenance and require more specialist and costly extraction systems to take away smoke and fumes. Our ovens accommodate 4 x 12" pizza per deck, they are compact, versatile and very operator friendly.
Blue Seal offer single deck and twin deck ovens, which operate up to 400 degrees centigrade giving optimum cooking temperatures for decks of their size. The single deck can be stacked onto the twin deck very easily creating a triple deck, maximising the output from the floor space. The Blue Seal oven chambers, all function independently allowing the pizza chef to control temperatures and bake more types/sizes, of pizza's at once, therefore reducing serving times for busy restaurants.
We appreciate that restaurants need un-compromised, consistent quality results from the equipment they use. That is Why Blue Seal Pizza ovens use accurate thermostatic temperature control, eco- compatible material for thermal insulation and high quality refractory stones which provide excellent heat retention. Each chamber has top and bottom temperature control, so the Pizza chef can adjust the performance of the chamber to suit baking pizza either in pizza pans, or traditionally straight onto the stone. These ovens compliment the rest of the Blue Seal product range very nicely, maintaining the power /performance & reliability expected from our brand.