ceda Partner & Associate Webinars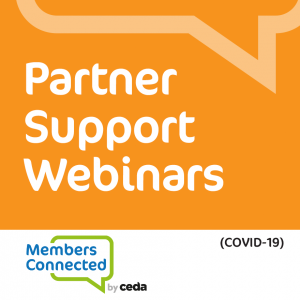 We are in the process of putting together a Partners and Associates Webinar schedule for ceda Members to access and participate in.
The topics are both generic and industry specific and we are hoping to offer a variety of sessions from as many different ceda Partners and Associates as possible. Typically, this can be a 30-60 minute sales or technical training piece or a session about the business and how they are currently operating.
So far we have:
Thurs 23rd April, 10am: Hobart UK – an overview of the current Cooking, Warewashing and Food Preparation Equipment, plus Service support available
Weds 29th April, 10am: Liebherr – Food Service, Wine Cabinets, Food Retail & Lab Refrigeration
Thurs 30th April, 10am: Ramco – Compliant Disposal & Reuse Equipment Service
ceda Members who would like to participate should email fiona@ceda.co.uk and we will issue invitations.
Remember, even members of staff who have been furloughed can take part in learning, education and development activities, so do share this email with your teams.
If you have any questions, or require any further information, do not hesitate to contact us.
We will be announcing details of new Webinars each week.