ceda and CESA to Joint Host the Catering Equipment Industry Technical Conference 2017
This year's ceda and CESA organised Technical Conference will see a range of expert speakers deliver updates and seminars on the latest industry specific topics.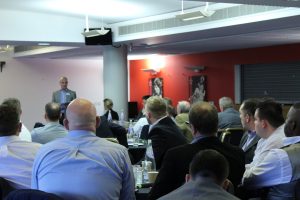 Taking place on 11th October at the Nottingham Belfry Hotel, the conference is a must for anyone involved in project sales and management, design and after sales service including senior engineers.
This year's conference includes two industry firsts – the first presentation on the updated DW172 ventilation regulations and the first introduction to the safe installation, operation and maintenance of solid fuel fired foodservice equipment in commercial premises.
For designers and project staff the business day will feature sessions on:
The new DW172 ventilation specification and European ventilation standard to be launched by BESA in November 2017
New Industry Guidance on the safe installation, operation and maintenance of solid fuel fired equipment compiled by ceda together with HETAS
A seminar on water problems and their treatment
Surgeries on refrigeration and warewashing problems
For after sales service staff, the conference will feature
Apprenticeships
Engineer training initiatives
Warranties – your questions answered
A seminar on engineer recruitment and retention
An update on forthcoming regulations and legislation
Surgeries on the Gas Regulations, refrigeration and warewashing problems
The frequent refreshment breaks throughout the conference provide an ideal opportunity to network with industry peers and browse the exhibition which will feature amongst others:
Catering Spares Solutions – new video technology for engineers
S&S Northern – new ventilation controls
First Choice Group
Mechline Developments
Commercial Catering Spares
Protean
Previous visitors to the conference have found the event extremely useful; here are few of their comments:
"Listening to the speakers, who are often the people setting our standards, I always leave the conference with far more knowledge regarding our industry than when I arrived"
Steve Skivington – Sco Mac Catering Equipment
"It's an excellent opportunity to learn from industry specialists.  Sitting in a room full of your peers and discovering common issues that are raised in Q&A sessions are really useful to take back and share with colleagues within your own business."
Gary Mackness – ABDA Design
Tickets can be booked and further information is available at: https://cetechnical.co.uk/