Winners: ceda Supplier Awards 2019!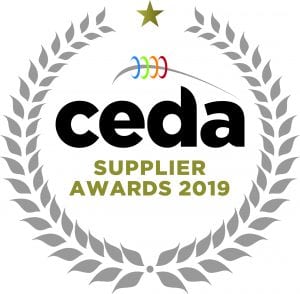 The winners of the ceda Supplier Awards were announced at the ceda Gala Dinner & Awards Ceremony on Friday 5th April at Heythrop Park in Oxfordshire.
The Supplier Awards are voted for by ceda Members, for the suppliers they feel have delivered the best overall service in terms of quality of product, support and service.
Recognition is given to three categories; Heavy Equipment, Light Equipment, Accessories & Spares and Outstanding Customer Service.
The awards were sponsored by Commercial Kitchen, and this year's winners were:
Heavy Equipment
Maidaid-Halcyon Ltd
Light Equipment Accessories & Spares
First Choice Group
Outstanding Customer Service
First Choice Group AND Maidaid-Halcyon Ltd
Adam Mason commented, "For suppliers to receive awards that are voted on by their customers must be a truly humbling thing, indeed both John Whitehouse and Julian Lambert were very proud to have their respective companies recognised. They are clearly looking after Members and providing great product, support and service which is really good to see."