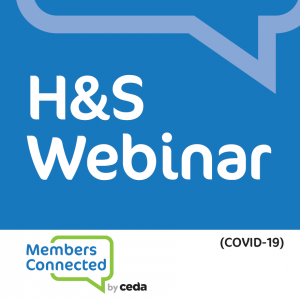 We are launching a series of Health & Safety Webinars over the coming weeks to continue the Learning, Education and Development of you and your staff at this time.
The topics listed below will take the form of a one hour, live and interactive webinar with Health & Safety Consultant Tim Knowles – all free of charge to ceda Members and Partners.
Tim has presented at ceda Conferences in the past and has worked with a number of companies in our sector.
Please email fiona@ceda.co.uk, indicating in the subject line which topic you would like to participate in, then we will arrange accordingly and send out invitations to you.
Please share with your teams, even if furloughed, so that we can maximise uptake.
Up-coming Health & Safety Webinar topics:
Health and Safety Law in Court – Trends In Regulation
Practical Risk Mitigation in Catering Facilities Design
Accident Reporting – What NOT to do
Work at Height – Common Mistakes
Vibration and Noise – The Basics
Risk Assessment – The Basics
Asbestos – A Retail Experience
Fire Considerations In Design
Safety Culture – How to create and maintain one
Young People in the Workplace
Accident Investigation – Legal Privilege
CDM and how it affects you