Commercial Kitchen Show 2018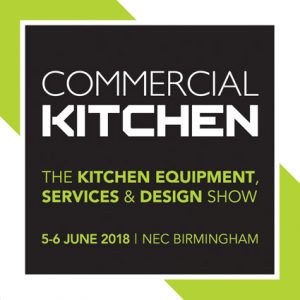 We are proud to be Lead Partner at this year's Commercial Kitchen Show!
Taking place at Birmingham's NEC on 5th & 6th June, Commercial Kitchen is THE industry event. We're using the opportunity to promote ceda and ceda Members to end-users, operators and customers – demonstrating why they should use a ceda Member for any Design, Project and Equipment products and services.
This is a great opportunity to bring together all our Members from across the UK to focus on association business, and to see the latest innovations and ideas from national and international catering equipment manufacturers and service providers, many of whom are our Partners and Associates.
There's an All Members Meeting at 10am on Tuesday 5th June for Members only. ceda will be providing updates on past, present and future activities, followed by lunch at 12pm on the ceda stand. We have a lounge area stand where Members are free to hold meetings and use as a base throughout the two days, if required.
Many of our members and partners are involved in the show's seminars on topics such as Food Service Design, Solid Fuel, Connectivity in Commercial Kitchens, Care Home Catering, Hospital Catering, Compact Kitchens and Italian Restaurant Kitchens.
ceda are also sponsoring the 'Operator of the Year for Innovative Kitchen Design' award at the inaugural Foodservice Equipment Journal (FEJ) Awards 2018 that take place during the show.
This year sees the launch of our new ceda Code of Practice and our new ceda video marketing campaign, both of which are aimed at highlighting the fantastic services ceda members provide. Our stand will offer a networking space, marketing workshops and highlight the ceda Grand Prix Awards Gallery putting the spotlight on the incredible work that our Members delivered to operators in the UK and overseas in 2017. Of particular note in this year's ceda Grand Prix Awards Finalists gallery is our Overall Winner CHR Foodservice Equipment for their project at Moor Hall where they created a sustainable "centre of excellence for food" which included Michelin Accolades.
Register NOW!
ceda Members can register to attend and become VIP if they use a special code.
As a VIP, ceda Members will receive the following benefits:
Fast track entry to the show with their badge posted in advance
Access to the dedicated VIP Lounge, so they always have a place to relax
Complimentary refreshments served in the VIP lounge throughout both show days
Prosecco served from 12pm on both show days in the VIP lounge
Book your VIP tickets here
VIP code for ceda Members only: CKVP2